Yumi Nagashima is pregnant with her first child! A photo of her and her husband, a handsome director, staying together.
We are very happy to announce that we have given birth to a new life. It is going to be even more lively, but I will do my best at work as usual. Thank you for your continued support!
On July 20, Fuji Television announcer Yumi Nagashima (31) updated her SNS and announced the pregnancy of her first child. She is with Mr. A, a staff member of the same station, who is one year older than her, and whom she married in March 2009.
He is a director in charge of an information program. He is a graduate of Waseda University and a sportsman who was a member of the ice hockey club while in school. He is also a handsome man, over180 cmtall. When Ms. Nagashima was assigned to "Mezamashi TV" in her third year with the company, he, who was the director of the same program, carefully taught her his job, which is how they started dating.
The two did not tell anyone in the company that they were dating and nurtured their love in secret, but when FRIDAY (Laughs). (Laughs.) After that, I kept asking myself, 'Are they really dating? (Laughs). After that, it didn't look like they were dating, to the point where I thought, "Are they really together? '21 In 2009, they appeared together on "Mezamashi 8" as MC In 2009, on the day it was decided that Nagashima would be the MC for "Mezamashi 8," the two talked and decided to get married.
It was in December 2005 that "FRIDAY" reported their "sleepover love. Let us look back at what happened at that time.
Nagashima was directly interviewed and said, "I felt like he was a really good senior colleague.
It was 11:00 a.m. on a weekday morning, and Nagashima was walking home after a live broadcast of "Mezamashi" at a supermarket near the nearest station to her home. After quickly buying a pack of potatoes, onions, and meat, she took out a cup of coffee from a café and headed back to her apartment.
Three hours later, another handsome man, this time looking like a crisp Kei Nishikori, enters her apartment: Mr. A, with whom she has been dating for about a year.
Since Mr. A was transferred to "Mr. Sunday," it seems that their time together is not so good, but I heard that they have been traveling together. Recently, they often visit Nagashima's apartment on Mondays and Tuesdays when Mr. A is off work.
On another day that this magazine covered, Mr. A visited Nagashima's home at 5:00 p.m. on Monday evening, and Nagashima left his home at 3:00 a.m. the next morning to go to work, with Mr. A coming in after noon. This magazine directly interviewed Nagashima. The first thing she said was, "I can't talk about private matters,
I can't talk about private matters. I'm sorry. It's so early in the morning.
She was afraid to answer, but asked about Mr. A. "He seemed like a really good senior colleague," she said,
He told me that he liked Mr. A.
He told me that he liked Mr. A. As for his declaration of a relationship, he said, "Oh, no, I'm too afraid,
I'm afraid I can't do that," he said, waving his hand broadly to the side.
As for why she chose her senior as her boyfriend instead of an athlete or celebrity, she said, "Hahaha,
I don't think about it at all. I haven't thought about it at all.
He laughed. I asked him if his father, Akihiro Nagashima, knew about it,
He replied, "No, no, no. We don't talk about such private matters very often.
I'm sure they will make a happy family with Mr. A, their newborn child, and their dog. I wish them all the best!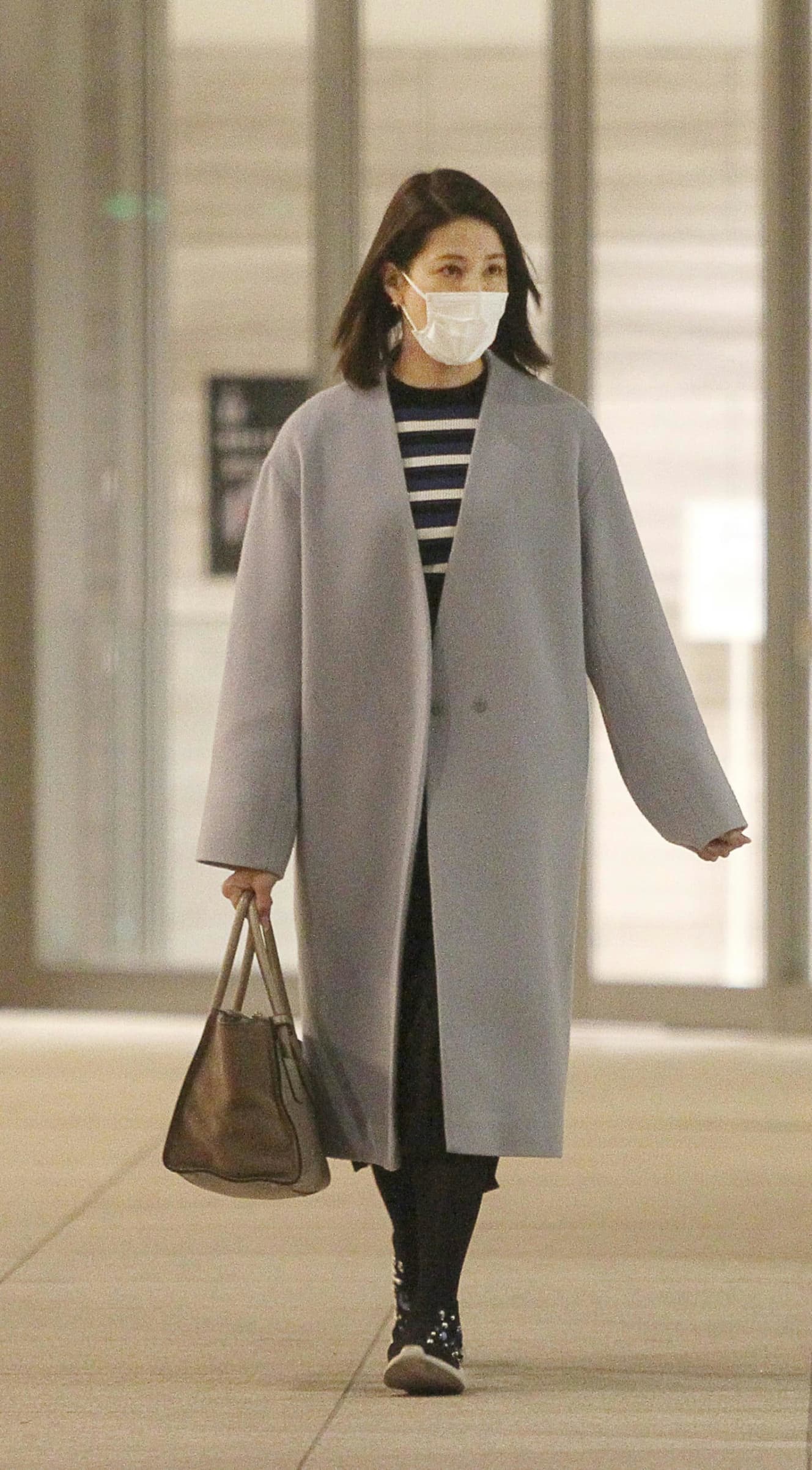 PHOTO: Junsei Todoroki (1st right, 2nd), Shu Nishihara (1st left, 3rd), Keisuke Nishi, Shizuka Otsuka, Yuri Adachi