Asaka Seto's "too beautiful itinerary" that has increased her presence since she became the wife of the president.
Just one month has passed since V6 member Akihiko Inohara (46) took over as president of "Johnny's Island" to replace Hideaki Takizawa (40), who left Johnny's office. In the meantime, Inohara has not made any notable moves as the new president, but his wife, actress Asaka Seto (45), has been the topic of much discussion.
Seto married Inohara in 2007 when she was at the peak of her career as an actress, and after giving birth to their first son in 2010 and daughter in 2013, she devoted herself to being a housewife and stayed out of the limelight for quite some time. However, in May of this year, she became independent from the agency to which she had belonged since her debut and established her own private agency. Recently, she has been actively performing live on Instagram, etc., and her exposure has been increasing," said an executive at a major entertainment agency.
On December 10, she is scheduled to hold a talk and live concert to commemorate the 30th anniversary of her debut. In commemoration of her independence and full return, we would like to introduce Seto, who has been active at the forefront with her gorgeous beauty that this magazine has photographed for more than 20 years, as well as her too beautiful figure.
The February 19, 1993 issue of "The Most Beautiful Girl in Town," selected from 4,000 times the competition.
Her debut in the entertainment world was triggered by a scout from an entertainment agency who spent a year and a half looking for "beautiful girls in town. After visiting 4,000 junior high schools, they found her. After graduating from junior high school, she moved to Tokyo by herself and made her debut as the lead in the 1992 movie "Wangan Bat Boy Blue.
Exclusive interview in the third year after her debut: "I was a delinquent in junior high school," October 20, 1995 issue.
In the third year after her debut, an exclusive interview with this magazine led to rumors that she had been a yancha ("delinquent" in the parlance of the time) in junior high school before her debut, and we attempted to interview her to find out the truth about that. She answered with a smile, "If you call me a delinquent, maybe.
I might have been a delinquent, but I didn't do anything that bad (laugh).
But I was really young back then. I was doing some pretty stupid things. It's embarrassing to think about it now, but it's a good memory.
I thought I saw a glimpse of a big-time actress when she responded in a way that made it hard to believe she was 18 years old.
Seto exudes a bewitching charm at the press conference, Nov. 24, 2000 issue.
The bewitching Asaka Seto at a press conference for the drama "The 300 Million Yen Case – The Last Mystery of the 20th Century" (Fuji Television Network).
At the awards ceremony…December 28, 2001
At the award ceremony for the 2nd Best Formalist Award, Asaka Seto appeared in a bustless black see-through dress of her own design, but when she bent forward to extinguish the candles on the birthday cake she had prepared, she was met with a flurry of camera flashes. However, Seto responded by holding her breasts firmly.
Scoop shot of her and her husband Inohara, April 17, 2005 issue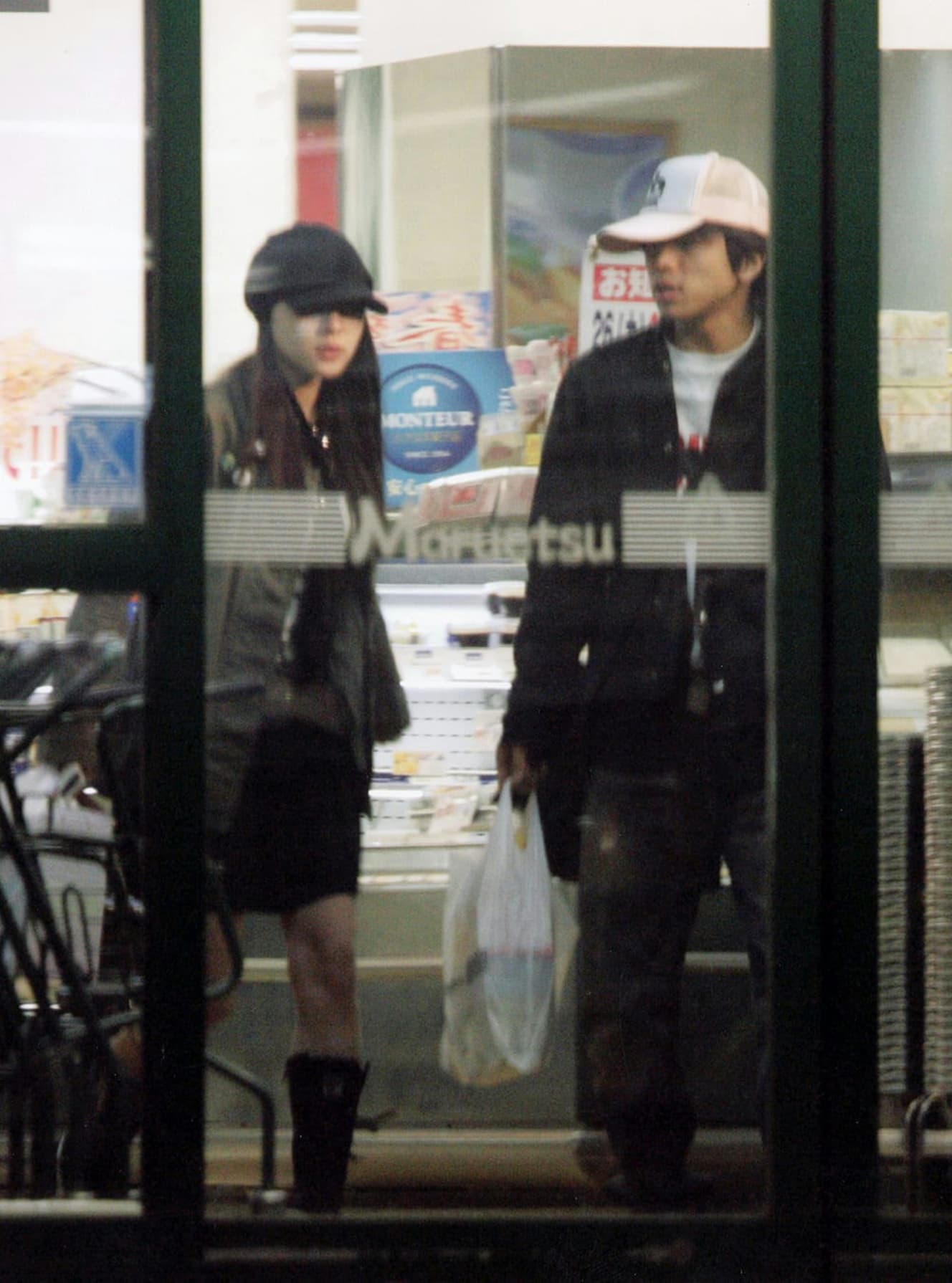 The two were spotted shopping at a convenience store late at night. They then returned to Seto's apartment in the car he was driving. At this time, Seto was 29 years old. He always said
"I want to get married by the time I am 30.
But it was two years later that they got married. Seto was 30 years old, just as he had declared.
Photo: Toshiaki Ichihara (1st and 5th), Koichi Kikuchi, Shuichi Masuda, Takehiko Kohiyama, Toshihiro Nakaikawa, Ichiro Takatsuka, Keisuke Nishi