Not only Abe Announcer! NHK Announcer's Hot Love & Scandal Photos Revealed!
NHK's "ace" announcer has unexpectedly come under scandal.
On October 29, the news site Bunshun Online reported that NHK announcer Wataru Abe, 55, has been having an affair with a woman in her 30s who works at the station for about two years. The site reported that Abe, who is married, and the woman were meeting secretly at a hotel, complete with photos.
Abe is the main anchor of NHK News Ohayo Nippon, News 7, and other flagship programs, and has been the general host of the Kohaku Uta Gassen several times. She has been entrusted with such a major role because of her high popularity and clean image. The damage must be too great.
Abe currently works at the Radio Center and is in charge of NHK Radio 1's "My Asa! but has been absent from the program since October 27 (as of October 31). There have even been reports of her "leaving the station" in some quarters. However, Abe is not the only NHK announcer to have been involved in a scandal.
In 2011, NHK announcer Koe Hanai, known as the "7:28 Lover," was reported to have had an affair with Yoshinori Tateyama, a Major League Baseball player. In 2002, Mamiko Okamura, a weathercaster on "News 7," made headlines for having a double affair with a meteorologist and a person related to the Japan Meteorological Agency.
This magazine "FRIDAY" has also reported on the love affairs and scandals of many NHK announcers. One of the most shocking was the "adulterous love" between a male NHK announcer and a female newscaster working for a local NHK station, which we reported in 2004.
[Joon] said, "It seems that a male newscaster and a female announcer at one of NHK's broadcasters are having an affair. Their faces are well-known to any local viewers. Only they themselves think that their affair has not been exposed, and the people around them are bitter about it, so the atmosphere at the station is said to be souring. In fact, a few months ago, the male announcer was questioned by his boss about the affair and given a stern warning. Despite this, the two have refused to stop their relationship.
In June 2004, a reporter and a cameraman went to the area after hearing such information from a local media source. When they arrived at a street in the suburbs far from the city center where the two had been meeting, they found a car with the two in it. Inside the car, they were holding each other tightly. When the interior of the car was illuminated by the headlights of cars passing by, their luscious, bare legs appeared.
When the affair was reported in FRIDAY, there was an uproar at the station. Naturally, Abe must have remembered the furore at the time. But he did not stop the affair, perhaps because he thought he could handle it.
NHK's signature announcer is far more well-known and influential than any celebrity. It would be very difficult for Abe to make a comeback.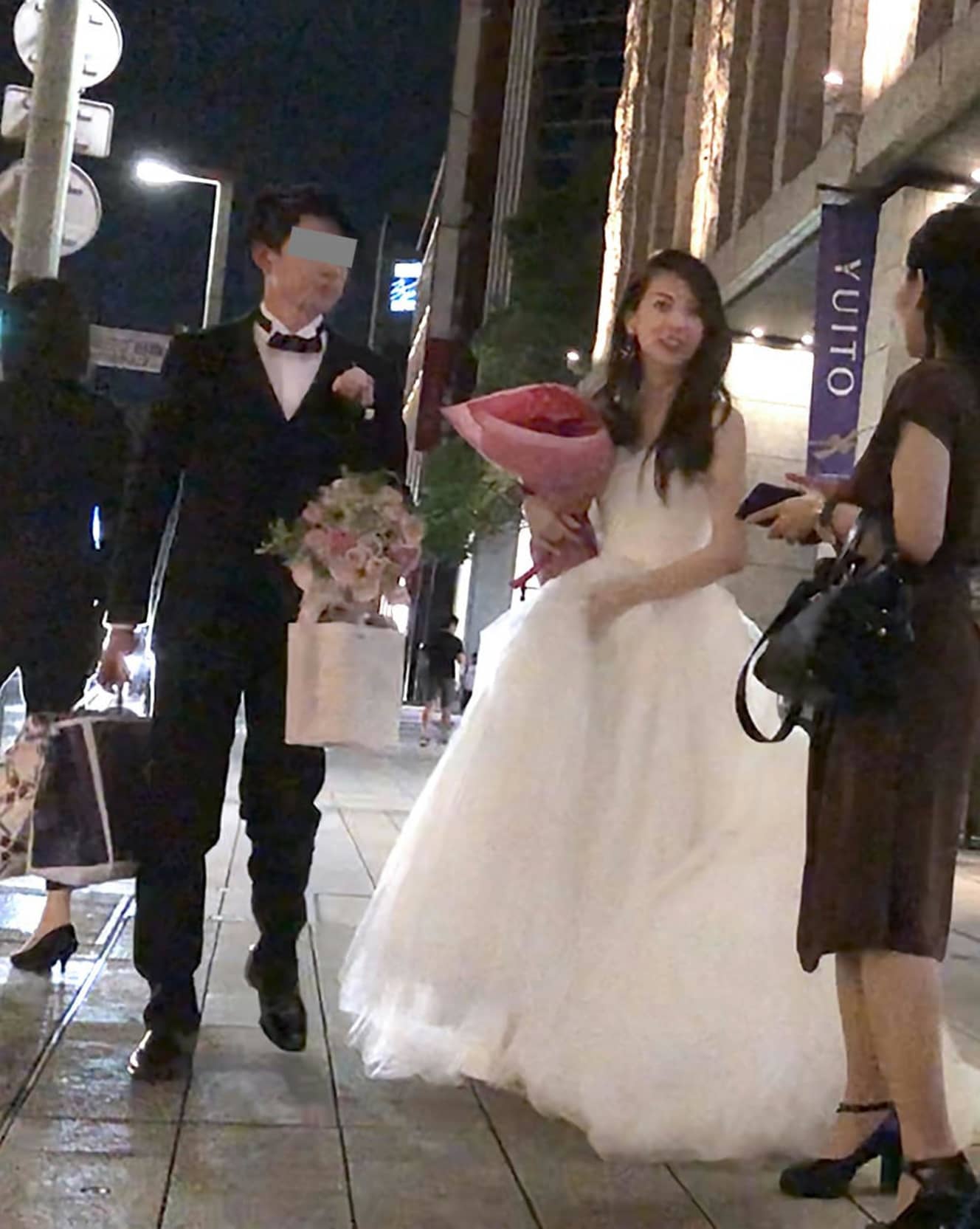 Photographed by: Toshikatsu Tanaka, Kyodo News, Keisuke Nishi